Specification:
Model
Motor
Conveying Capacity (kg/hr)
Hopper Capacity(L)
Conveying PipeDiameter (mm)
Dimensions(mm)H x W x L
Weight(KG)
Type
Power
Main Body
Hopper
Main body
Hopper
AML-800G
Induction
2HP
400
6
Ø38
650x450x400
450x350x250
45
5
AML-800G2
Induction
2HP
400
6
Ø38
650x450x400
450x350x250
45
5
Please excuse for not note if some specifications of products are changed.Note:
1) The test condition of conveying capacity: vertical distance 4 meters, horizontal distance 1 meter.
2) The standard power voltage is 3Ø 380V 50/60Hz; other voltage is available.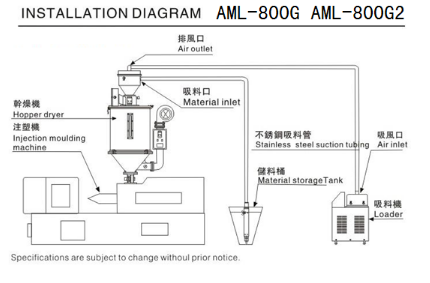 Application:
AML series separate vacuum hopper loaders are suitable for conveying material over long distance. AML-700G/800G/800G2/4HP/5.5HP are for one to one combination, while AML-900G/900G2 are for one to two combination. All models adopt stainless steel hopper to ensure no contamination to raw material. The machine equipped with high efficiency and high pressure air pump, features light weight, durable and great suction power, easy installation and operation.
Features:
Microprocessor controller for ease of operation and has multiple alarm indicators.
Motor overload protector ensures long motor lifespan.
Audible material shortage alarm.
Filter designed for easy cleaning and has filter status checking window for easier monitor of filter condition.
Both vacuum hopper and photo sensor hopper can be directly mounted on molding machine's feed port. The above mentioned loaders adopt stainless steel mesh as standard.
It is available to select 6L/12L vacuum hopper, both of which can be directly installed on injection molding machine.
Proportional valve is available as option, which is adopted to mix virgin and regrind material, as well as instantly recycle regrind material.