Specification:
Model
Motor
Conveying Capacity (Kg/h)
Hopper Capacity (L)
Conveying Pipe diameter (mm)
Dimensions (mm)
Weight (Kg)
Type
Power
AML-400G
Induction
1.5HP/3Phase
400
10
Ø38
800x450 x450
25
Please excuse for not note if some specifications of products are changed.
Note:
1) The test condition of conveying capacity: vertical distance 4 meters, horizontal distance 1 meter.
2) The standard power voltage for AML-400G is 3Ø 380V 50/60Hz; other voltage is available.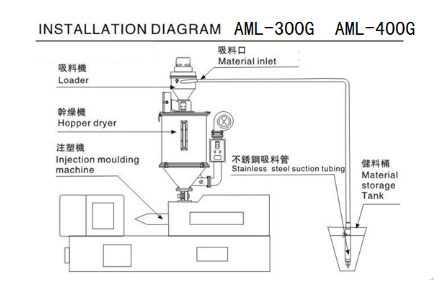 Application:
AML-400G combined autoloader use a three phase induction motor with low noise and long service life. It also has an automatic motor reverse cleaning device.
Features:
* Stainless steel hopper and motor overload protective device.
* AML-400G is equipped with High-pressure induction pump with low noise and long service time.
* Microprocessor controller for ease of operation and has multiple alarm indicators.
* Equipped with emote controller for convenient setting and operation.
* Motor reversal cleaning function is available to AML-400G.