Product Name:
Vertical Plastic Color Mixer
Model No.:
AMX-25KG AMX-50KG AMX-100KG AMX-150KG AMX-200KG AMX-300KG
Specification:
Name
Plastic Mixer Machine / Vertical Batch Mixer
Model
AMX-25KG
AMX-50KG
AMX-100KG
AMX-150KG
AMX-200KG
AMX-300KG
Power
Kw
1.1
1.5
3
4
5.5
11
Mixing capacity
Kg/min
25/3
50/3
100/3
150/3
200/3
300/5
Weight
Kg
80
100
150
180
250
250
Dimension:
L
mm
700
860
1100
1100
1250
1250
W
mm
610
800
1050
1050
1220
1220
H
mm
920
1000
1060
1330
1400
1860
Please excuse for not note if some specifications of products are changed!
Note:
1) The standard power supply is 3Ø 380V 50Hz. Other power supply is available.
2) N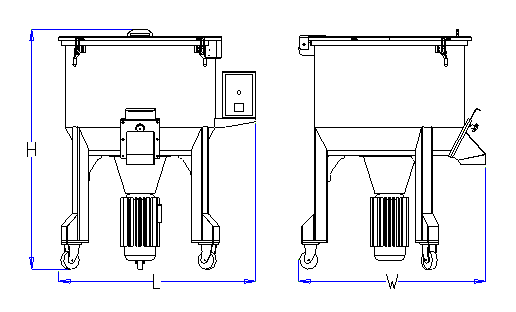 Application:
AMX series vertical plastic color mixers are mainly used to mix plastics material of master batch, raw materials and recycled materials. AMX plastic mixers can mix different granule and power material completely in a short time. The machines are widely used in plastic injection, plastic recycling and extrusion industry, it also be used in industry of powder metallurgy, pharmacy, chemicals, foodstuff and ceramic ware.


Features:
The mixing barrel is made of stainless steel.
Safety protection device, guarantee the safe of operator and plastic mixer machine.
Mixers work in high efficiency and low energy consumption.
24 hours timer to control the mixer working time and stop machine automatically.
Optimized designed structure makes machine easy and simple for operation, clean and maintenance.