Product Name:
Screw Type Hopper Mixer Machine
Model No.:
AMX-500KG AMX-600KG AMX-1000KG
Specification:
Name
Screw Type Hopper Mixer Machine
Model
AMX-500
AMX-600KG
AMX-1000KG
Power
Kw
2.2
2.2
4
Mixing capacity
Kg/ min
500/5
600/10
1000/10
Weight
Kg
360
400
550
L
mm
1500
1600
1650
W
mm
880
1200
1400
H
mm
1485
2530
3000
Please excuse for not note if some specifications of products are changed!
Note:
1)Normally, the mixing time is 5~10 minutes.
2) The standard power supply is 3Ø 380V 50Hz. Other power supply is available.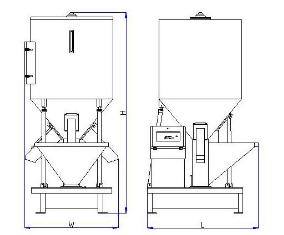 Application:
AMX series high capacity vertical batch mixers are mainly used to mix plastic virgin and recycled material, powder, granule, color masterbatch, etc. This series is a kind of large plastic color mixer ranges from 500Kg to 10000Kg capacity. AMX plastic mixers can mix different granule and power material completely in a short time. The machines are widely used in plastic injection, plastic recycling and extrusion industry, it also be used in industry of powder metallurgy, pharmacy, chemicals, foodstuff and ceramic ware.
It is better than the traditional plastic color mixer in some defects which characterized of large mixing capacity, low energy consumption, high efficiency and stable performance.
Features:
Elaborately welded and strictly adjusted screw shaft insures machine working with low vibration and low noise.
Micro computer PC controller insures mixer machine works smoothly and stable performance.
Materials in the tank can be round stirred like swirl to decrease mixing time.
Stainless steel mixing barrel keeps material without pollution and easy to clean the barrel.
Low power consumption, large mixing capacity, low vibration and low noise.
Overload protection to protect motor and safety switch to protect people.
Equipped with oil refueling port and dust-proof plate to protect durable bearing.
Equip with hand-operated cut-off plate for discharge port, convenient for discharging.
Nice appearance, easy-dismounted design, convenient for maintenance.