Specification:
Name
Heavy Duty Centralized Granulator / Crusher/ Grinder
Model
AMG-1000SH
AMG-1200SH
AMG-1400SH
Power
kw
75
90
110
Rotor Speed
rpm
450
450
450
Rotating Blades
pcs
6
6
6
Fixed Blades
pcs
4
4
4
Screen Diameter


Ø12
Ø12
Ø12
Chamber Size
mm
870x1000
870x1200
870x1400
Output
kg/h
1500~2500
1800~2800
2000~3000
Noise
dB(A)
100~120
100~120
100~120
Blower Conveying & Cyclone System
4KW x 2pcs
4KW x 2pcs
4KW x 2pcs
Hydraulic System for lifting of Hopper and Screen
√
√
√
Weight
kg
4960
6200
7800
Dimensions:
L
mm
2290
2290
2290
W
mm
1980
2140
2340
H
mm
3240
3240
3240
Please excuse for not note if some specifications of products are changed.
Note:
1)"√"is standard configuration," O " is optional to purchase.
2)The output capacity depends on the screen diameter, material quality and feeding frequency.
3) The screen mesh diameter can be made according to customers' request.
4)The running noise depends on varied shredding material.
5)The standard power supply is 3Ø 380V 50Hz. Other power supply is available.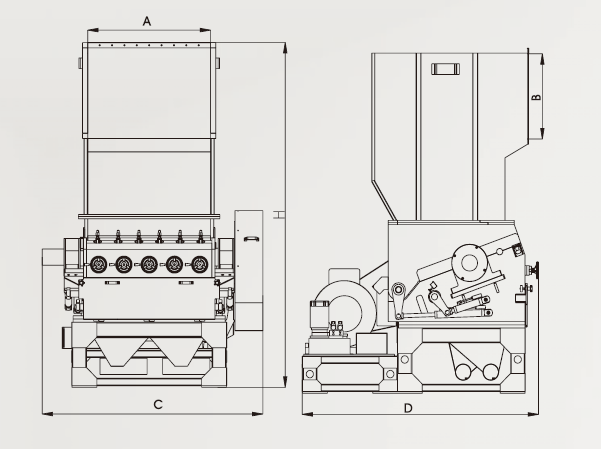 Application:
AMG-SH Series granulators are specially designed for crushing and recycling of all kinds of plastic wastes, rubber fabric, leather, cardboards, wooden sheets, timber aluminum foil in shape of sheets, films, sprues wires,, tubular construction or hollow containers. This series plastic crushers also can crush different hard and soft plastic wastes like PET Bottles, PP/PE films, PVC pipes and fittings, plastic blocks, thermoplastic sheets, electric wires, etc. Large rotor shaft diameter, cutting chamber size and motor power insures machine can crush large material with big output capacity.
Features:

High-intensity rotor shaft, blades and screws insures a heavy-duty performance.
External bearings block fixed outside machine body, keep dust away and low temperature.
V-shaped designed blades structure and SKD11 material blades insures a high cutting efficiency.
Hydraulic system for opening and closing cutting chamber and screen room to save manpower.
Separate structure design for cutting chamber and screen room, easy to clean and maintenance.
Safety switch and overload device to protect safety of people and motor.
Equipped with anti-vibration pad to reduce vibration and noise.