Introduction
AMG Series Powerful Plastic Granulators and Plastic Crushers are used to granulate various kinds of plastic wastes, products and injection mold sprues. The machine crush different hard and soft plastic wastes in different shapes like PET Bottles, PP/PE films, plastic blocks, plastic thermoforming sheets, plastic balls, plastic twigs, etc. AMG plastic granulators play an important role in plastic recycling industry.
Advantages
-AMG Series powerful granulators are equipped with high quality tool steel blades and high efficiency energy-saving motor. We have 3 different types of blades structure (V-shape type, Claw type and Flat type) for all kinds of plastic materials with different shapes and thickness.
-With special design on machine structure, AMG Series plastic crushers have bigger cutting room with higher crushing capacity than similar models from other manufacturers.
-AMG Series plastic crushers (grinders) adopt global top brand electrical parts to insure safety of peoples and machine, as well as reduce the problem of machines.
Features:
-Special designed blades structure, easy to install and maintenance.
-Special designed bearings block keep dust away, long life using.
-6CrW2Si standard blades material, SKD11 blades material is optional.
-Safety switches to protect people overload device to protect motor.
-Fixed with shockproof pad to reduce vibration and noise.
Main functions
AMG Series plastic granulators are used to crush plastic wastes, defective plastic products, injection mold sprues, blowing mold sprues, PET bottles, thermoforming sheets, etc. to be small pellets, granules and scraps material. In that case, the wasted plastics can be easily melted and reused again.
AMG Series strong plastic crushers are popular and used in plastic injection molding factories, plastic recycling plants, plastic blowing molding factories, plastic pelletizing factories and so on.
Specification:
Name
Powerful Plastic Granulator / Strong Plastic Crusher
Model
AMG-300
AMG-400
AMG-500
AMG-600
AMG-700

AMG-

800

AMG-

800+

AMG-

1000

Power
kw
5.5
7.5
11
15
18.5
22
30
37
Rotor Diameter

mm
260

360

460

Rotor Speed
rpm
560

560
560

Rotating Blades
V type
pcs
3
6
6
6
6
6
6
6
F type
9
12
15
18
21
24
24


C type
18
24
30
30
36
42
42


Fixed Blades
pcs
2
2
2
4
4
4
4
4
Screen Diameter


Ø10
Ø12
Ø12
Chamber Size
mm
370x300
370x400
370x500
480x600
480x700
480x800

560x

800

560x

1000

Output
kg/h

270~

350

300~

500

400~

600

500~

700

600~

800

700

~900

800~

1200

1000~1500
Noise
dB(A)
80~95
80~95
80~95
Magnet at Feeding Mouth
O
O
O
Blower Conveying & Cyclone System
O
O
O
Manual Box
√
√
√
Weight
kg
490
530
600
1050
1150
1250
1550
1750
Dimensions:
L
mm
1420
1760


W
mm
830
930
1030
1170
1270
1370




H
mm
1410
1835


Please excuse for not note if some specifications of products are changed.

Note:
1)"√"is standard configuration," O " is optional to purchase.
2) "V" Type rotating blades is standard type; F Type flat rotating blades and C type claw rotating blades is optional to purchase.
3)The maximum crushing output depends on the screen diameter, material quality and feeding frequency.
4) The screen mesh diameter can be made according to customers' request.
5)The running noise depends on varied shredding material.
6)The standard power supply is 3Ø 380V 50Hz. Other power supply is available.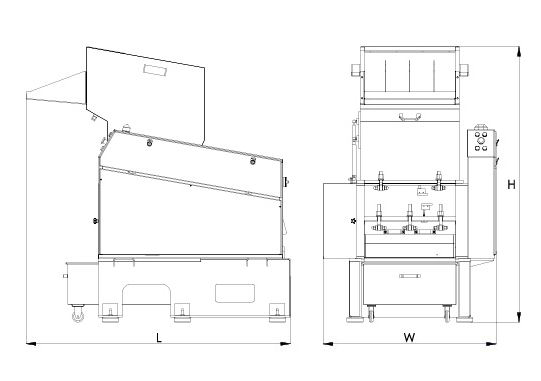 Certifications:

We have CE Certification for all of our AMG Series plastic granulator machine.
Our service:
-We supply one year warranty for machines we supplied.
-We provide 24 hours online support for installation, using, repairing and maintenance.
-If necessary, we can supply to-door service for installation and repairing of machine in customer's factory.