Product Name:
Slow-speed Screenless Granulator
Model No.:
AMG-170E AMG-270E AMG-360E AMG-460E
Specification:
Name
Slow Speed Screenless Granulator
Model
AMG-170E
AMG-270E
AMG-360E
AMG-460E
Power
kw
0.75
1.5
2.2
2.2
Rotor Speed
rpm
37
37
34
34
Rotating Blades(Claw Blades)
pcs
1
2
3
4
Rotating Blades(Teeth Blades)
pcs
2
3
4
5
Fixed Blades
pcs
4
6
8
10
Cutting Chamber Size
mm
240x170
240x270
240x360
240x420
Output
kg/h
8~10
10~15
15~25
25~35
Noise
dB(A)
60~75
60~75
60~75
60~75
Blower Conveying


√
√
√
√
Cyclone


√
√
√
√
Proportional Valve


O
O
O
O
Manual Box


O
O
O
O
Weight
kg
265
310
360
390
Dimensions:
L
mm
840
940
1040
1140
W
mm
470
470
470
470
H
mm
1470
1470
1470
1470
Please excuse for not note if some specifications of products are changed!
Note:
1)"√"is standard configuration; "O" is optional to purchase.
2) The maximum output capacity depends on material quality and specific gravity.
3) The noise depends on different material features and hardness.
4)The standard power supply is 3Ø 380V 50Hz. Other power supply is available.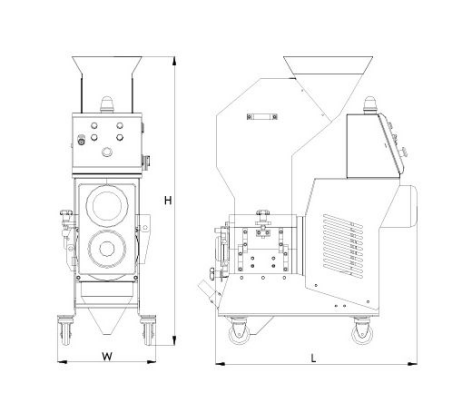 AMG-E Series Blades
Application:
AMG-E Series beside-the-press screenless granulators ( crushers) are suitable to granulate hard and thick materials, especially for high transparent material like PET, PE, PC, acrylic and plexiglass, etc. This series plastic crushing machine works in super low speed to crush material into symmetrical granules with few dusts. It can be installed beside injection molding machine for instant recycling of material.
Features:
Low power, low noise, low dust.
Claw blades for cursory crushing and teeth blades for refined crushing.
High efficiency gear motor with high performance and long life.
Safety switch to protect people, overload device to protect motor.
Fixed with wheels, easy to move.